Earlier this year, I received an incredible opportunity to explore Cuba, capturing my own take on the culture, the vintage cars, and this time capsule of a country that sits so close to our shores but feels like a million miles away. I've been lucky enough to work with close friend and colleague, Tom Gibson, on content for a gallery show we'll be exhibiting just outside of Clemson, SC in early 2019 capturing the cars, culture, and true spirit of the Cuban people. Spoiler alert: It's like everything you've ever heard and more!!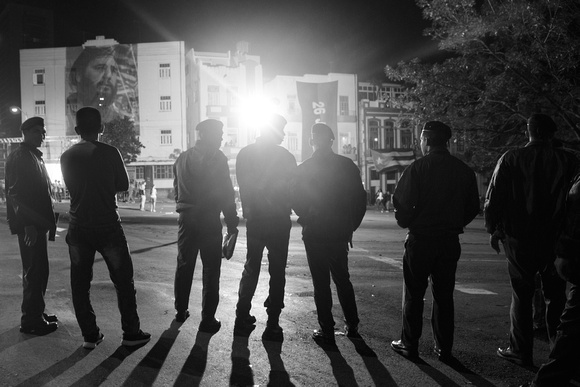 © Bill RushSoldiers in President Raul Castro's security detail oversee La Marcha de las Antorchas. January 27, 2018 - Havana, Cuba.
Growing up, I knew very little about Cuba. The name Fidel Castro was spoken with the same contempt as Adolf Hitler or Genghis Khan, I wasn't even aware he was a living present-day man when I learned about the revolution. I knew about the embargo, the ban on cuban rum and cigars, the USSR and the cuban missile crisis, and that's about it, the place was almost mythological. Cuba sounds like a scary place if that's all you know about it. But I also knew of this incredible music, and the food, and the beauty, and the passionate people. And I heard all the legends of this Caribbean island island frozen in time, filled with 1950s automobiles as far as the eye can see, and sexy women, and incredible jazz, and the best rum ever to touch your lips. And if that's all you know about it, Cuba must be an absolute paradise. As with all things in life, there are 3 versions of reality; yours, mine, and the truth. The true Cuba has to fall somewhere in between heaven and hell, and my goal is to find out where.
Aside from being intrigued by unfamiliar cultures, and loving to go on adventures I never thought would even be possible, I happen to be a vintage car junkie to boot. So, suffice it to say, when Tom reached out about coming on board for this project, I jumped at the opportunity. So I went. I secured my travel license & visa, and hopped a plane to Cuba, armed only with my very VERY limited Spanish vocabulary, a pocket full of euros (credit cards don't work and the U.S. dollar won't get you anywhere), and a bag full of camera gear, I joined Tom on the adventure of a lifetime. As time moves on I will be showcasing some of my work here on my blog, leading up to the exhibition in Clemson early next year. Today, I want to share an experience that wasn't even planned for the show, call it bonus footage.
© Bill RushCuban President Raul Castro (center) glances at his expected successor, Vice President Miguel Díaz-Canel symbolically waving the cuban flag in celebration of the eve of Jose Marti's 165th birthday.
I had booked my stay for 8 days, in a beautiful Casa Particular found by Tom... directly across from the universidad steps right in the heart of Havana. Scheduled to come home on the 26th of January, our hosts Aymeé and Gaspar told me we're leaving just before a very important day in Cuban history.
Every year for the past 65 years, as many as 20,000 torch-wielding cuban nationals march on the streets of Havana on the eve of Jose Marti's birthday for a celebration they call La Marcha de las Antorchas. 2018 would mark the last march under the Castro regime, as Raul Castro is slated to step down as president on April 19th, the first time somebody other than a Castro will be in power since the revolution began in 1959. Not only that, but Castro and his expected successor, Miguel Diaz Canel, are leading the march, from the universidad steps directly across the street from my casa!
Fast forward through the full day adventure that is changing an international flight from a country with no internet service, phones that cannot call US businesses, local offices with unlisted phone numbers, and limited funds in a cash only society where ATMs do not recognize American debit cards, and I've managed the impossible. Aymeé has somehow managed security clearance for me to photograph the event from our balcony, just feet above Raul Castro, President of Cuba, and I am staying to photograph this once in a lifetime event!
The change gave me more time to spend with friends I'd made in Cuba, which would have been enough reason in itself to stay. There will be stories to share about Iovanni and Yuni's band, Rey's beautiful home in La Lisa, the chance encounter that's led to an awesome friendship with my fellow photographer friend Chulayne, and so much more. But for now I want to focus on La Marcha de las Antorchas.
© Bill RushLa Marcha de las Antorchas, Havana Cuba - January 27, 2018
As the hours passed leading up to the march, preparations were made, a giant banner of Jose Marti was hung from our balcony and another of Fidel Castro from the building across the way. Cuban soldiers began to arrive by the busload and the energy in the air was palpable as the moment of Castro's arrival grew near. I saw the press corps guided to a holding pen opposite the square, around a hundred meters from my location, and it started to sink in that I'm the only photographer allowed this vantage point of one of the last public appearances of Raul Castro as president. I hold exclusive photos of key political figures, but this isn't what moved me about that night. Ok, that's a lie, that part was pretty damn exciting. But after the speech, when the crowds began marching and I went down to street level to experience the march right from the thick of things. THAT was the experience unlike anything else in my life. If you had told my 18 year old self that one day I would be standing alone in the streets of Havana as thousands of communist soldiers carrying torches march straight at me, I'd probably have had a coronary. But that's where the story shifts.
Viva Los Ninos Cubanos © Bill RushA young boy with a lollipop relights his torch to honor Cuba's national hero Jose Marti: La Marcha de las Antorchas, Havana Cuba - January 27, 2018
This wasn't some frightening moment where enemy forces rally in the streets. This was proud young adults serving their country, excited students showing their patriotism, families honoring a national hero. This is a side of La Revolucion America doesn't mention. Ordinary people in celebration. Just like you or me. What I learned that night, what I want to share with you all, capitalism and communism describe systems of government. We, the people behind those monikers all have the same potential for love, compassion, and greatness.
All around Havana were banners with a quote from Jose Marti, "Patria es Humanidad." Homeland is Humanity. I take those 3 words to mean we are all one people, regardless of what divides us. Once I returned to America and started researching what I discovered in Cuba, I found Marti's poem from which that line is attributed: Mi memoria son tus ojos, y tus ojos son mi paz. Mi paz es la de los otros, y no se si la querrán. Esos otros y nosotros, y los otros muchos más. Todos somos una patria. Patria es humanidad.
Translation: My memories are your eyes, and your eyes are my peace. My peace is that of the others and I do not know if they will want it. Those others and us and the many others, we are all a homeland. Homeland is humanity.
Toward the end of the evening, I came across this young man, I called him lollipop boy. His homemade torch had gone out, and I noticed him relighting it from the flame of another torch on the steps. He later passed the flame on to light torches of who I can only assume were his 2 sisters and mother, and he appeared in the background of several other photos I took that night. Lollipop boy showed me a new face of Cubans. This is the very same innocence and wonder an American boy his age would experience with sparklers at his first 4th of July fireworks celebration.
I'm honored to announce my photo of lollipop boy, titled Viva Los Niños Cubanos has won an APA Award!! This piece will be on exhibit in Los Angeles with the other winners of APA's Off The Clock 2018 competition. For more details, click here!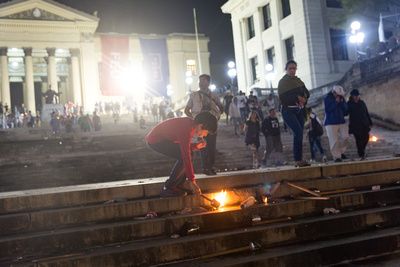 © Bill RushLa Marcha de las Antorchas, Havana Cuba - January 27, 2018
© Bill RushLa Marcha de las Antorchas, Havana Cuba - January 27, 2018
© Bill RushLa Marcha de las Antorchas, Havana Cuba - January 27, 2018
© Bill RushLa Marcha de las Antorchas, Havana Cuba - January 27, 2018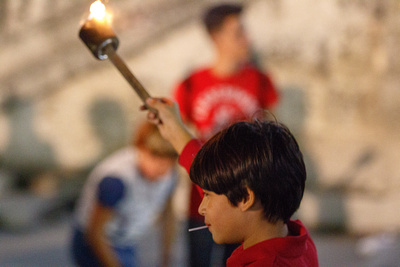 © Bill RushLa Marcha de las Antorchas, Havana Cuba - January 27, 2018
© Bill RushLa Marcha de las Antorchas, Havana Cuba - January 27, 2018
© Bill RushLa Marcha de las Antorchas, Havana Cuba - January 27, 2018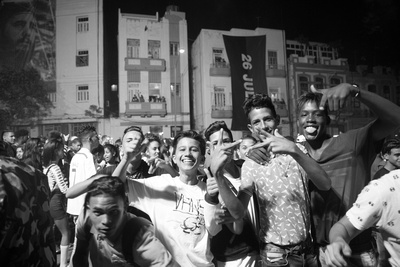 © Bill RushLa Marcha de las Antorchas, Havana Cuba - January 27, 2018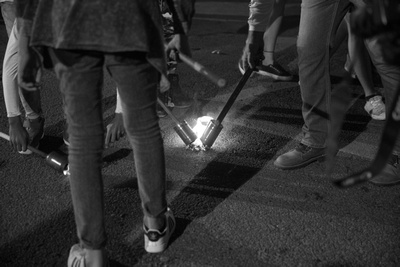 © Bill RushLa Marcha de las Antorchas, Havana Cuba - January 27, 2018
© Bill RushA homemade torch belonging to a student named Samuel burns on the steps of Universidad De La Habana. La Marcha de las Antorchas, Havana Cuba - January 27, 2018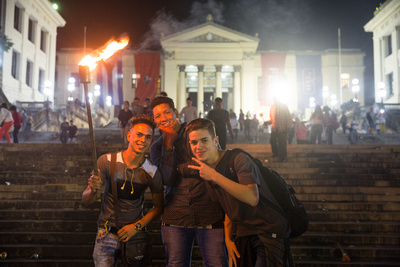 © Bill RushLa Marcha de las Antorchas, Havana Cuba - January 27, 2018