Years before I realized it, years before its current incarnation ever even existed, the intersection of North Avenue and the Atlanta Beltline has been an epicenter of creative inspiration for me. As a teenager new to the Atlanta area, I heard rumors of this incredible music venue called the Masquerade. In my 20s I played bass and occasional rhythm guitar in a garage band called Yermomanems (as in 'Hey y'all, how ya dern? How's yer deddy? How's yermomanems?') and one day our front man calls me and announces that we have a gig booked at The Masquerade. Next thing I know, I'm performing on the very same stage I watched The Reverend Horton Heat light on fire just a few months earlier & drinking in the green room shared by bands like Greenday, Rage, and Nirvana. Another time, I remember bringing my old hot rodded '55 Caddy out to the Rockabilly Luau in a sketch shady abandoned lot on North Ave, we had to watch our step avoiding hypodermic needles and broken glass, and now it's a piece of the beautiful Old 4th Ward Park.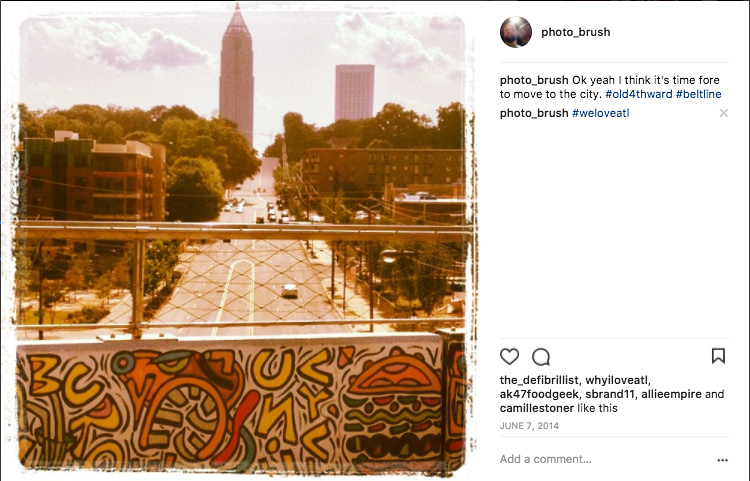 Fast forward to the spring of 2014, the first time I walked on The BeltLine, and I post this image on my instagram page, with the simple caption "Ok yeah I think it's time for me to move to the city." And so I did.
I remember almost 20 years ago when I first saw this part of town, how "ugly" and run down the seedy sketch industrial area once was. I've watched a drug infested abandoned lot turn into one of the most beautiful and enchanting parks our city has to offer. I watched a giant abandoned warehouse transform into Ponce City market, Atlanta's latest & greatest hot spot. I was one of the many who embraced a run down cotton mill and created a lifetime of memories on its stage, and I said goodbye to that club when it was closed down to make way for new apartments and shops as the area outgrows our memories. I remember when the rumors that some guy's master's thesis would someday turn that sketchy old abandoned railroad into a beautiful multi-use path that would bring everyone together & fill the city with beauty.
I kind of wish someone had a time-lapse to capture this block of North Avenue over the past 20 years or so to capture the change that's taken place right in front of our noses. I don't have a 20 year time-lapse, but I do have this:
Of course the awesome thing about art is that everyone interprets it differently, you apply your own perspective & find beauty in your own way. For me, this piece captures the beauty in not being able to capture the moment. Time moves on, with or without us. We see the sun set over Atlanta as fans line up for a show at the Masquerade, shoppers pull into Ponce City Market, and cars streak by on their way home from a long busy day. In this moment, hundreds or even thousands of people intersected right there in the same postage stamp of the planet, and had absolutely no idea what that moment was like from my point of view, or anyone elses. Just one of thousands of moments that have long since passed us by.
When the opportunity came up to turn my artwork into a piece of the Atlanta BeltLine and share my vision with the hundreds of thousands of people whom it reaches, this photo had to be a part of it. This is the reason my POV series is printed & mounted to reclaimed industrial metals, finding beauty in things that should be anything but. Ghandi said to be the change you want to see in the world. I moved to the Beltline to start a new life because of the inspiration I felt one day while walking over this bridge. And with this commission, I am forever a part of what The Atlanta BeltLine gives to the city. Even as the moments pass us by.
One of the biggest thrills for me as a beltline contributing artist was watching the moments pass during this years lantern parade, when my work was a piece of the experience.